Technical top-up: an accountant's guide to payroll in 2021
07 June 2021
It's safe to say that this year has presented a number of challenges for finance professionals in payroll and with influences such as Brexit, tech advancements and legislation changes it's likely that there are still many hurdles ahead.

Take this opportunity to catch up on all the latest payroll developments and gain expert insight to overcome this year's payroll challenges and stay compliant with changing legislation.
To view AAT's privacy policy visit www.aat.org.uk/policies/privacy
We want our webinars to be accessible to as many of our members as possible. Please let us know if you require any supporting services or documentation and we will do our best to provide a solution. Please email your name, membership number and details of your requirements to [email protected]
Speakers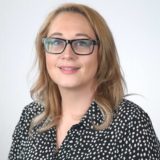 Gemma Mullis ACIPP
Policy and Research Officer
CIPP
Gemma joined the CIPP in October 2017, originally part of the Advisory Team, and has recently moved across into her new role within Policy
As a Policy and Research Officer, Gemma has worked within a Payroll, Human Resources and Finance environment for the last 19 years. Her experience has been gained through the insurance and construction industry from running multiple payrolls from beginning to end, managerial roles and a wide range of HR duties.